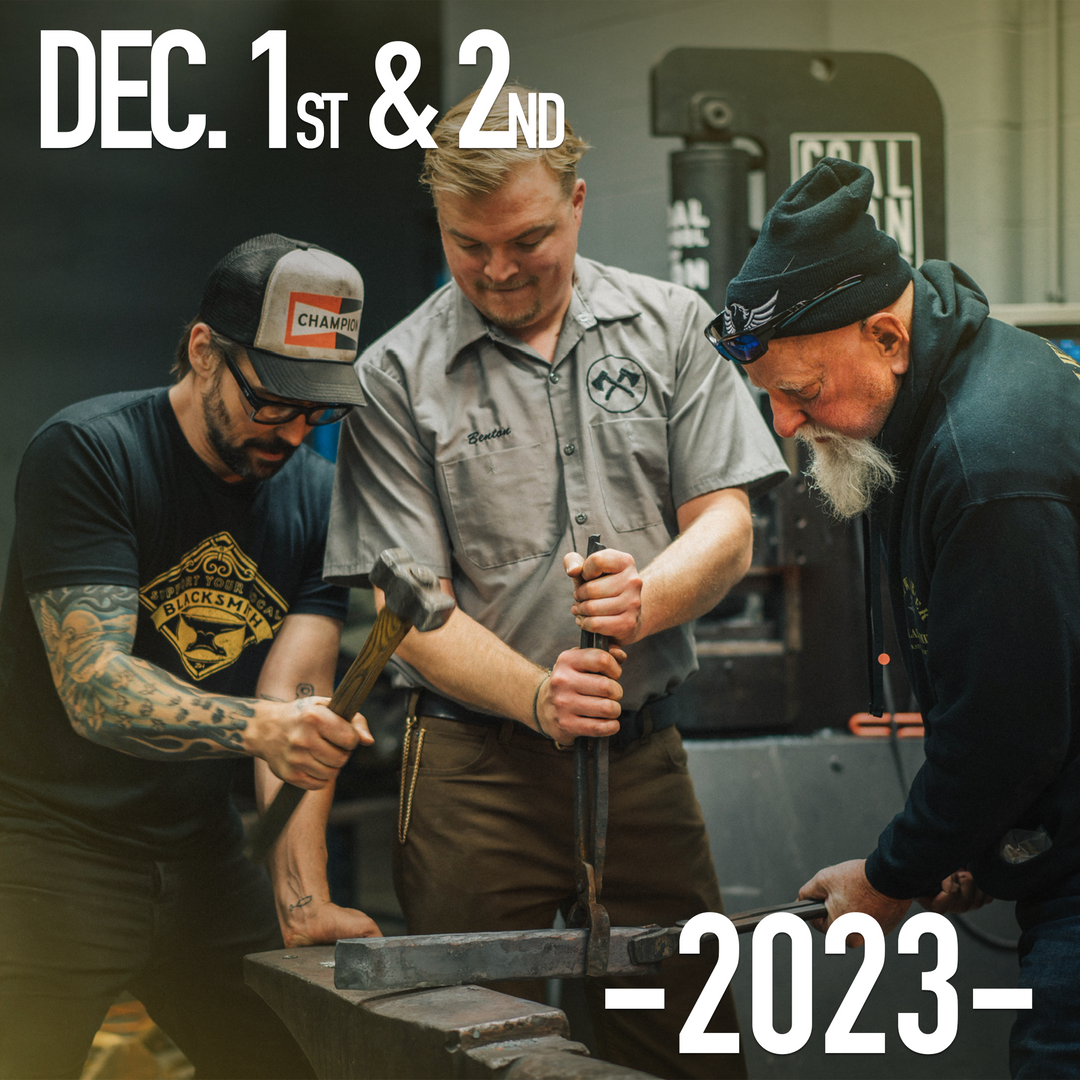 Join us in Anderson Indiana Dec 1st and 2nd, from 9am-5pm, for a weekend of food, friends, forging, and celebrating the life and legacy of our co-founder; Andy Davis in educational facility at Coal Iron Works! The Andy Davis Hammer-in will feature world-class demonstrations, chances to have hands-on forging experience, incredible work on display, great local food, and of course the company of our incredible community!
What will be happening at this event, and who can attend?
Simply put; this event will be a fun and inviting time for anyone, regardless of their experience in the craft! Think of it as a welcoming open-house, but with world-class demonstrations, good food, and the chance to try forging in our forge-area with some great guidance from our team! We are not offering "classes" at this hammer-in, but the demo's to watch and the open-forging area (which you can signup for upon arrival) will be a great ways to learn the fundamentals of blacksmithing/bladesmithing.
*Anyone under the age of 18 is welcome but must be accompanied by an adult at all times. This is a family friendly event but there will be fire, sparks, and forging presses present!*
Our demonstrators will have beautiful work on display and for sale. And the entire event will be a fantastic opportunity to network if you're a professional in the craft, or a fun place to learn even if you've never swung a hammer on an anvil!
If you aren't already, make sure to subscribe to the Coal Iron Newsletter to keep up to date on all of the awesome stuff going on here at Coal Iron Works!
*If you are flying; the Indianapolis International Airport is the best to arrive at*
------------------------------------------------------------------------------------
*Purchasing this digital item will grant the buyer 1 (one) admission to the Andy Davis Hammer-in at Coal Iron Works for 2022. The sale and ticket will be associated with the Name, Phone Number, and Email provided at checkout.*
The event will be at our facility in Anderson Indiana:
516 Meridian St Anderson Indiana, 46016
 Demonstrators:
Lodging and transportation will not be provided. We will have parking available on location. 
Still looking for a place to stay? Check out Madison County's Visitors Bureau for the best lodging around Anderson! 
Breakfast and coffee will be provided, and are included in the cost of registration for both days!
*SPACE IS LIMITED!*
 Email us at: info@coaliron.com if you have any questions!