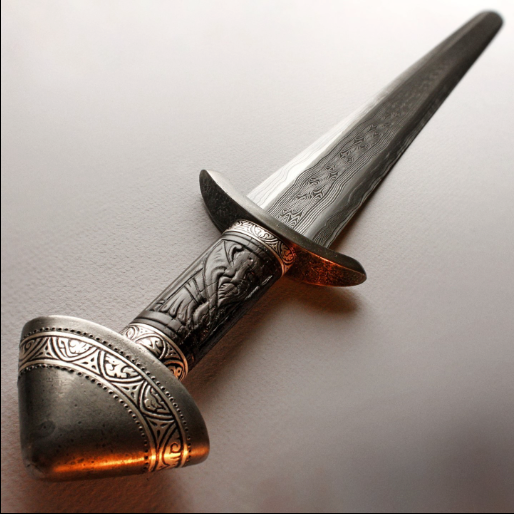 CLASS DIFFICULTY: ADVANCED - YOU MUST APPLY HERE BEFORE PURCHASING THIS COURSE
STUDENTS ARE REQUIRED TO HAVE PRIOR FORGING/BLACKSMITHING EXPERIENCE
FOR THE FULL BENEFIT OF EVERYONE ALL APPLICANTS OF THE COURSE WILL BE EXPECTED TO KEEP UP WITH THE PACING OF THE TEACHING AND THE CLASS OUTLINE. WE WANT EVERYONE TO HAVE AN ENJOYABLE TIME AND WALK AWAY WITH A FINISHED PROJECT AND FULL KNOWLEDGE OF THE PROCESS.
This class teaches the fundamental skills needed to craft high-quality swords, with a focus on overall function and clean fit-up. Students will learn design, stock-removal grinding, blade heat-treating, and finishing techniques to create an original heirloom quality sword.
The crafting of a high-quality professional sword can be an intimidating and overwhelming process, but there are some fundamental skills and tricks to learn that can give you the confidence needed to consistently craft fully-functional high-end swords. In this class we'll be focusing on both overall sword function and clean/crisp fit-up as our core goals. We'll begin with careful design-work on paper to ensure that your sword will be balanced and functional. We'll learn professional standards of clean stock-removal grinding. We will dive deep into accomplishing professional blade heat-treating, and finally put extra emphasis on the finishing stages when a sword comes together. The student will walk away with an original heirloom quality sword that would be worthy of any serious collector.
Monday, Nov 13: Design + stock removal: Introduction to sword crafting and discussion of overall goals for the class. Design work on paper, sketching out our swords at full-scale. Students will learn how to carefully design a sword that is both balanced and functional. This will include understanding how to properly size and proportion the sword, as well as how to achieve optimal balance and weight distribution. Students will begin learning how to achieve professional standards of clean and precise stock-removal blade grinding
Tuesday, Nov 14: Heat-treating and hilt-crafting: Students will learn how to accomplish professional blade heat-treating, including how to properly quench-harden and temper their blades. Along with the blade each student will focusing on crafting an intricately detailed stock-removal guard, grip, and pommel, as well as how to achieve a crisp and precise fit-up between the blade and guard.
Wednesday, Nov 15: Finishing work, assembly, fit-up, and sharpening: The students will lastly learn various techniques for finishing their sword, such as polishing, decorative techniques utilizing acid and/or laser etching, blade sharpening, and clean/crisp fit-up the entire sword hilt. Throughout the class, students will work on their own swords and will receive guidance and feedback from David. At the end of the class, students will have completed a fully-functional high-end sword that would be worthy of any serious collector.
Fundamentals of Modern Swordsmithing with Cedarlore Forge
$1,500.00
The cost of the class will include tuition, material fees, as well as breakfast and lunch each day. Purchase of this in-person course will also grant you access to the live recording of the class when it is published on our Online Education page so that you have lifetime access to the process, information, and memories. Housing and transportation options are not available at this time and are the responsibility of the student. Local housing can be found at visitandersonmadisoncounty.com
CANCELLATION AND REFUND POLICY
We understand that sometimes circumstances change and you may need to cancel your attendance to one of our scheduled classes. However, please note that refunds are subject to the following policy:
If you cancel your attendance more than 30 days before the start of the class, you will receive a full refund of your registration fee.

If you cancel your attendance within 30 days of the start of the class, you will not be eligible for a refund.
We apologize for any inconvenience this may cause, but please understand that our classes have limited availability and we need to ensure that all registered attendees are committed to attending.
Class registration is non-transferable under any circumstances. The student in attendance must match the ID information of our class registration records.
If you have any questions, concerns, or need to make a cancellation, please do not hesitate to contact us at school@coaliron.com
The Coal School of Iron is not financially responsible for any other accommodations any student makes for themselves should a cancellation occur. This includes room and board, travel arrangements, travel insurance, etc.